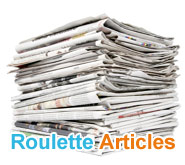 Find out about the subtle differences between American and European roulette, and why you should choose European roulette if you have the option.
Everyone wants to find a way to beat the odds and win money from roulette, but is it actually possible?
Roulette is just a game at the end of the day, so even though you can win money from it, it's primary use should be for entertainment. This short article shows you how to get the most out of the game.
After losing on a few spins of the roulette wheel you can find yourself in a predicament where you start to try and win back the money you have lost. Here's some advice on chasing losses from someone who has done it themselves.
It seems pretty easy for an online casino to rig their roulette wheels so that you lose money, but does it actually happen? Are the results you see genuinely random?
Other Articles
Above is a collection of roulette articles covering both the physical as well as psychological aspects of the game. These articles should help with your understanding of roulette, as well as help you to get the most from your time at the wheel.
If you're looking for more in-depth discussions about historical roulette events, check out the section on people in roulette. I quite like the piece on Fyodor Dostoevsky.