Roulette Facts
Interesting facts about roulette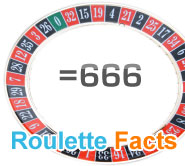 Here are a few quick facts about the game of roulette that you may not have known before.
There's nothing too groundbreaking here, but it could be useful as some interesting pub trivia. Impress your friends...
Roulette table.
Roulette is the third most popular game found in the casino. The only two games more popular amongst players are slots and craps.
All of the numbers on a roulette wheel add up to 666. Hence why roulette is referred to as "the devil's game".
The game of roulette gets its name from the French word for "small wheel".
The marker that's placed on the table to signify the winning number is called a "dolly". Players are not allowed to place or remove bets when this is on the table.
Odds and probability.
Roulette stories.
The great Russian novelist Fyodor Dostoevsky had an addiction to roulette for eight years of his life. He was wrote his most famous novel Crime and Punishment during this time, as well as the short novel The Gambler (which is heavily based on his experiences of playing roulette at the time).
A man from England named Ashley Revell sold everything he owned and went to Vegas to gamble it all on one spin of the roulette wheel. He bet on red and won, and walked away with $270,600.