Ashley Revell
The Guy Who Bet Everything He Owned On Roulette
In possibly the most famous bet in modern roulette, in 2004 a 32 year old Ashley Revell from Kent sold all of his worldly possessions to bet everything he owned on the roulette table in Las Vegas.
The grand total of his possessions came to £76,840, which gave him around $135,300 in total to bet with on one spin of the roulette wheel.
Placing his bet at the table
Before making his bet, Ashley was questioned about whether he was completely happy to make the bet, to which he affirmed his decision.
As the ball was spun, Ashley pushed his chips onto red, and claims that the decision of which color to choose was made right at that very moment. As the ball bobbled around the wheel, it finally came to rest in the red 7 pocket, doubling his winnings to $270,600.
Ashley had literally sold every that he had owned to make the bet at Vegas, and even had to hire a tuxedo to wear to the casino on the big day. The reason behind making such a gamble was that Ashley was prepared to start out afresh, and so the big gamble seemed to be the perfect opportunity to either get a financial boost, or to take the opportunity to start out from scratch with a new start in life.
The big gamble was documented on the show Double or Nothing on Sky One (UK), with the big finale being shown from the casino in Las Vegas (with a slight delay to the public). It was not possible to show the live result of the bet, as it is prohibited by the Wire Act to use a wire communication facility to air such betting activity to another state or country.
Finding a high stakes casino in Las Vegas
It was surprisingly difficult to find a casino in Vegas to take up such a large bet, as many casinos simply refused to play host to such a big gamble. I'm assuming that many casinos would not want to be tagged with the idea that you can lose everything you own by playing roulette, and so decided to play it safe and not host the bet.
In fact, the original casino that Ashley was going to use for the gamble pulled out a few days before, which meant that a new casino had to be found quickly in time for the airing of the bet on Sky One. Eventually, the high stakes bet was taken up by the Plaza Hotel and casino.
Beating the roulette wheel
After the win, Ashley was greeted with a bottle of champagne from his family, and tipped the croupier with a generous $600.
Many of the onlookers wanted to see Ashley gamble it all again, but he simply took his winnings and headed back to the UK.
After the big win, Ashley said:
That was just the most amazing experience I have ever had in my life.
The first thing I am going to do is buy some new clothes, some sunglasses, obviously!
It was just wicked. I can't describe my feelings going through that.
It has just been a complete sort of roller coaster ride. First it's on, then it's off.
Life after roulette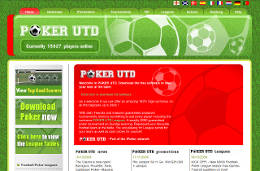 Ashley was quite the avid online poker player, so he set up his own online poker site pokerutd.com shortly after his trip to Vegas. However, the site is no longer running, so it's not exactly known what he's been doing for a living since. The last I heard he set up a recruitment agency for gambling companies called igamingrecruitment.com, but that doesn't appear to be online now either.
So it seems as though Ashley is still involved in the world of gambling in one way or another, even though his latest ventures haven't been as successful as the one he made in Vegas in 2004.
Nonetheless, I don't think we will be seeing him making any big roulette bets any time soon:
But you know, never again. I mean, that's — it was mad.
Links.