Online Roulette
Playing roulette online for real money
Where can you play roulette online?
I know a few reputable online casinos that allow you to play online roulette for real money.
These are the ones I've used and can recommend:
You should be able to play roulette at these casinos for free (i.e. "practice mode") if you want to get the hang of the game before playing for real money.
There are literally thousands of casinos on the Internet. Some have been around for years and are genuinely reliable, whereas others are new and best avoided. That's why I've made a list of recommended casinos to get started with if you're new to playing roulette online.
This is a list of online casinos that I would have wanted when I was first looking to play roulette online.
Feel free to browse around the Internet to find a casino you like the most, but these casinos will give you a solid starting point.
Just remember that trust and reliability are more important than a cool-looking website.
More Info
Here are some more detailed guides related to playing at online casinos:
What online roulette games can you play?
Traditional roulette.
These are the most common roulette games you'll find on the Internet:
The American and European roulette are the games you first picture in your head when you think of "roulette". The only difference between them is that American Roulette has an extra 00 number on the wheel (and for that reason it's best avoided, because it just gives you an extra chance to lose without increasing the payouts when you win).
French roulette is exactly the same as European Roulette when it comes to the wheel layout and the payouts, with the only difference being the layout of the table (and the names of the bets). It also usually comes with an additional La Partage or En Prison rule, which reduces the house edge by half.
If you want the best odds, stick with the European or French versions.
To put it another way, French is the original version of roulette, and European is the same game with a modern design.
American is then the same as European, but with an added 00 number.
Live dealer roulette.
Live dealer roulette is now a very popular way to play roulette online.
Instead making bets on a digital table and watching a digitally animated wheel, you make bets using a digital interface that connects to the results delivered by a real-life physical wheel spun by a real dealer.
So you get the benefits of playing roulette from your computer (which is convenient), whilst also getting the benefit of receiving the results of your wager from an actual roulette wheel (so you can trust the results).
It's makes for a good combination of traditional roulette and online roulette.
Modern online roulette.
In addition to these traditional roulette games you can also find modern twists on the game at some casinos. For example, some exotic variations I've found on my travels include: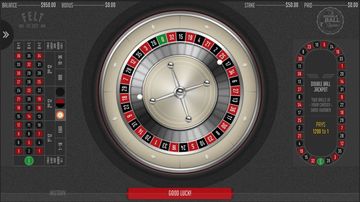 Double Ball Roulette
Two balls are spun at the same time, and your payouts are dependent on where both of them land.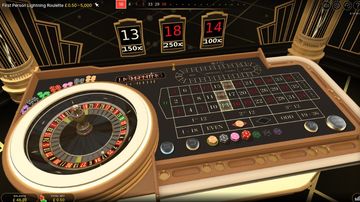 Lightning Roulette
Added "lightning" feature that randomly increases the payout for some numbers on table from between 50x to 500x.
However, these variations typically have a slightly less-favorable house edge compared to the original versions of roulette, so they're more for fun than anything else.
Different game providers develop their own versions of casino games, so the games available at different casinos depends on the software providers they use.
How does online roulette work?
The casino you're playing at generates random numbers on their server, and you bet on what you think the result of the next randomly generated number is going to be.
For example, here's an RNG (Random Number Generator) in action:
Obviously these random numbers are being generated inside your web browser, but the same thing is happening on the servers of the casino you are playing at (or to be more precise, the servers of the people who are running the game software).
Anyway, these random numbers are then used when playing roulette online. The actual spinning of the wheel and rotation of the ball that you see is not happening in "real time". Instead, it's simply a simulation showing an animation to display the result of the randomly generated number.
Of course if you're playing live roulette the results of each spin are based on actual physics, but the digital versions of online roulette are simply simulations based on randomly generated numbers.
So ultimately when you're playing online roulette, you're betting against a random number generator with a pretty interface.
However, whilst the spinning of the roulette wheel isn't exactly "real", the results are still random.
Is online roulette safe?
Yes, there are online roulette casinos you can trust to play at for real money.
You can deposit real money, play for real money, and withdraw real money if you win. I know because I've done it myself.
The actual risk is in the game of roulette itself.
Roulette has been designed so that the casino has a slight house edge, which means that over the long run you can expect to lose more than you win. You might be able to win over the short run (which is why people play the game), but the more you play the more likely it is that you will lose money.
Secondly, gambling can be addictive. If you experience a big win early on you might find yourself chasing that feeling from then onwards, and you'll end up in a dark hole where you keep gambling despite continually losing more money than you win. It seems easy to avoid, but the reality is that can happen to anyone.
So yes, it's safe to play roulette online if:
You play at a trusted casino.
You do not become addicted to the game.
The second part is the trickiest.
Can you play online roulette for real money?
Yes.
Playing roulette on the Internet has been a thing since the 1990s, so it's nothing new. The only thing that has changed is the graphics and the introduction of newer (and faster) payment methods.
There's no limit to the amount you can win, but by the same token there's no limit to the amount you can lose either. The game is designed so that the casino has a mathematical advantage, but short-term variance can result in wins (if you get lucky).
Check out this winnings simulator to see what I mean.
So whilst you can play roulette for real money online, it's not something you should expect to make money from over the long run.
How much can you win?
There's generally no limit to the amount you can win.
Most casinos have limits on the amount you can bet per spin of the wheel, but that's about it.
However, there's no limit on how many bets you can make or how long you play for. If anything, casinos are open to having you making as many bets as you want.
Remember that the casinos know that they are going to come out on top in the end, which is why they're happy for you to bet as much as you like.
Even if you hit an unbelievably lucky streak, the casino is not going to stop you from playing because they know that the game is going to make them money over the long haul. They'll be fully aware that you've just been on the lucky side of variance for a short period, and it's not going to bother them.
Play at an established and trusted casino.
An established online roulette casino will have experienced all kinds of winning and losing streaks before, so they're not going to have any qualms about paying out winners.
A casino's main role is to make money from you, but the other side of the coin is they have to pay out when you win. That's what running a casino is all about.
So play at a casino that has a history of paying out to winners, and be cautious about casinos that are new or have no history to back them up.
How long does it take to get started?
You can usually expect to be making your first bet on the roulette wheel in under 20 minutes.
That's my average anyway.
The steps are always the same:
Create an account. This only takes a couple of minutes. Most online casinos just want your name, email address, and a password. Occasionally you may be asked for your actual address as well.
Make a deposit. Payment methods like credit card and bitcoin will hit your account almost instantly. Bank transfer is the only method that you can guarantee to be waiting at least a day to hit your account, so avoid that if you want to get started quickly.
And that's it.
If you have lots of online accounts and keep forgetting your login details, use a password manager like KeepassXC. It's an essential tool for any avid user of the Internet, and it saves a lot of frustration down the road.
Online casinos want to get you up and running as quickly as possible (because you're a customer that can make them money), so they try to make the sign-up process as frictionless as possible.
At some of the larger online casinos (e.g. Betsafe) you may be asked to provide some ID and proof of address before you can make a deposit, but this is not the norm (and it depends on the regulations imposed on the casino based on the country you're living in).
But overall, most casinos can have you set up as a real money player within 20 minutes. Probably less if you type faster than I do.
Withdrawals usually take longer than deposits. Withdrawals are manually approved before being processed, and it's not uncommon to be asked for ID before making your first withdrawal as well. It's a bit annoying, but typically you're not waiting more than 1-2 days for your withdrawal to complete.
If you want the fastest deposits and withdrawals possible from online casinos, use bitcoin.
Why play online roulette?
Because it's simple to play and gives you some of the best odds found in the casino.
Blackjack is massively popular, but you need to know basic strategy or you'll fall victim to a much higher house edge. Craps is another option with a similar house edge to roulette, but it's difficult to pick up for newcomers. Baccarat has a slightly favorable house edge when compared to roulette, but it's far more boring to play.
Roulette on the other hand is immediately playable for beginners, fun to play, and still gives you good odds of winning.
| Game | House Edge (Best) |
| --- | --- |
| Blackjack | 0.75%+ |
| Baccarat | 1.20% |
| Roulette | 1.35% |
| Craps | 1.40%+ |
How can you increase your chances of winning?
Play French Roulette if it's available. Failing that, play European Roulette.
French Roulette and European Roulette have the same bet payouts, but the French version almost always has a special rule called La Partage (or En Prison), which gives you half of your bet back if you make a bet on the "outside" (e.g. on red or black) and the ball lands in the green 0.
As a result this rule slashes the house edge by a half, giving you the best odds of winning out of all the roulette variants.
| Game | House Edge (Best) |
| --- | --- |
| American Roulette | 5.26% |
| European Roulette | 2.70% |
| French Roulette | 1.35% |
So play French Roulette if you have the option to do so, and avoid American Roulette at all costs.
European Roulette sometimes has the En Prison or La Partage rule too, but not always.
Strategy/Systems
The best thing you can do is to choose French Roulette, bet wherever you like, and hope to get lucky.
Beyond playing at a table with the lowest house edge there's nothing else you can do to increase your chances of winning.
There's no strategy when it comes to where you bet, because all the bets on the European and French tables have the same house edge (so no bet is better than any other over the long run).
Also, there's no need to worry about using betting systems, because varying the amount you bet based on whether you're winning or losing has no effect on you chances of winning over the long run. To put it bluntly, systems do not work.
So like I say… play French roulette, bet wherever you like, and have fun.
What's the history of online roulette?
Online roulette is part of the bigger history of online gambling in general, so I'll give you a brief history of that.

|-
|- 1989: Tim Berners-Lee invents the Internet.
|-
|-
|-
|-
|- 1994: Graphical web browsers released.
|- 1995: HTTPS allows for secure transactions.


|- 1996: First online casino.


|- 
|- 
|- 1999: Failed attempt to ban online gambling in US.
|- 2000: Widespread adoption of broadband.
|- 
|- 
|- 2003: Online poker boom.
|- 
|- 2005: Party Gaming is first online casino to go public.


|- 2006: UIGEA slows down online gambling in the US.


|- 2007: iPhone released.
|- 
|- 2009: Bitcoin released.
|- 


|- 2011: Black Friday. Some US gambling sites have domains seized for violating the UIGEA.


|- 


|- 2013: First bitcoin casinos.




|- 2014: Mobile gambling starts to take off.


|- 
|- 
|- 
|- 
|- 
|- 2020: Pandemic causes 4x increase in interest in online gambling.
|-
|-
|- ...

1990s
Online casinos first appeared in mid-1990s, which was surprisingly early on in the life of the Internet.
The first major web browser Mosaic was released in 1993 (later followed by Netscape Navigator in 1994), making the internet easily accessible to the world through a graphical interface that could display text and images. In 1995 HTTPS was released, making it possible to make secure card transactions online. Both of these combined to make online casinos a viable prospect.
Development for online casino games (including roulette) first started in 1995 with a company called CryptoLogic. The first casino to license their software was InterCasino in 1996, who allowed anyone in the world to play games like roulette and blackjack for real money over the Internet for the first time.
This was the dawn of online gambling.
The remaining years of the 1990s saw the emergence of other online casinos such as Jackpot City and Lucky Nugget Casino, with other game providers such as Boss Media and Microgaming entering the market with their own versions of casino game software.
By the end of the 1990s there were over 200 different online casinos in operation. The websites and the games were still basic, but they worked, and they were gaining in popularity.
In 1999 the Internet Gambling Prohibition Act was introduced in the US Senate to try and outlaw online gambling, but it did not pass. This allowed for an explosion in online gambling (both in the US and globally) over the following years.
2000s
The 2000s saw the mainstream adoption of online gambling, including a boom in online poker.
In the early 2000s broadband replaced dial-up to provide much faster Internet speeds, and quality of websites improved rapidly with the release of more modern browsers like Internet Explorer (yes, some versions of it were modern at the time) and Firefox (2004). Both of these combined to make online gambling a more attractive proposition for the average Internet user.
Online gambling companies became serious businesses during this period too, with CryptoLogic (the software provider behind the first online casino) listing on the Nasdaq in 2000, and Party Gaming going public in 2005.
Online gambling was exploding at an unregulated pace, and it wasn't going unnoticed.
So in 2006 the US snuck in the Unlawful Internet Gambling Enforcement Act (UIGEA), which basically made it illegal (well, difficult) for gambling companies to accept payments from US players. It didn't make online gambling illegal, but it did make it much more difficult for online casinos to continue servicing US players.
As a result, major online casinos like Party and 888 quickly left the US market, and popular online wallets like Neteller stopped accepting US customers too.
The Wild West days of online casinos were over.
But this wasn't the end of online gambling; it was more of a warning shot. Whilst the biggest online gambling companies withdrew from the US to help protect their shareholders, many smaller operations like Bodog (now Ignition Casino), PokerStars, and Full Tilt continued to accept US players nonetheless.
So online roulette casinos persevered, but it marked the start of government interest in the world of online gambling.
2010s
The 2010s saw increased regulation and consolidation in online gambling, but also developments in mobile betting and the advent of bitcoin casinos.
If the introduction of the UIGEA in 2006 was a warning shot, 2011 brought about a targeted assault on US-facing gambling operations. The DOJ seized the domain names of major online poker rooms including PokerStars and Full Tilt, forcing them to leave the US market.
It was dubbed Black Friday, and it permanently changed the landscape for online casinos when it came to accepting US players. Some casinos carried on as before, but the operators had an effect on the whole industry moving forward.
The seizure of domain names is why many US-facing casinos now use the extension .eu instead of .com (because .com's can get seized by the DOJ).
On the other hand, in the mid-2010s mobile casinos began to proliferate. In the early 2010s online casinos were still cumbersome to use on mobile due to their mostly Flash-based games, but that all changed with the release of HTML5 and more powerful smartphones (such as the iPhone 5 in 2012). Casinos focused their development on making responsive websites, and by the end of the decade more people were playing casino games on mobile than on desktop.
In addition, this is the decade bitcoin came on to the scene.
Bitcoin was released in 2009, with the first bitcoin-only casinos arriving in 2013 (e.g. Cloudbet). These sites brought new life in to the world of online casinos, with faster withdrawal times and far-improved website design. Later on in 2016, existing casinos like Ignition Casino adopted bitcoin as a payment method alongside their traditional payments too due to it's permissionless system.
Whilst regulation was trying to hold online gambling back, technology was pushing it forward.
The decade ended with tighter regulations on advertising in Europe, and consolidation amongst the biggest online gambling companies (e.g. PokerStars, Full Tilt, Betfair, Paddy Power, etc. had all merged by 2020).
But at the same time, bitcoin was gaining in usage too.
2020s
Online gambling experienced a boost of roughly 400% during the Covid-19 pandemic in 2020, making it the biggest rise in online casino activity since it's explosion in the early 2000s. The rise was fuelled by people being forced to stay at home and having ample free time, and served to underline the availability and ubiquity of online gambling in people's everyday lives.
Should I play online roulette?
It's your call.
I think roulette is cool, but it's not something that's going to develop your skills in any way or support you financially.
The game is there if you want to play it. Just don't play roulette because you think you can beat the game or regularly use it as a source of profit.
At the end of the day casinos are offering a service, and the roulette table exists to lay a fixed odds on your money. The odds are slightly out of your favor (and they always will be), but you can win over the short term if you get lucky.
I believe gambling is a freedom that should be afforded to everyone, but it's not right for everyone.
If you're looking to play a game on the Internet for fun, I'd recommend chess. It's completely free to play and there's no money involved, but it's a deep and interesting game of skill.
Alternatively, if you still want to gamble and actually have a chance of winning money, try poker instead. With poker you're playing against other people (and not the casino), so if you play well the odds will be in your favor and you can win money over the long run. Just be aware that you need skill to win money when playing poker, so you'll need to be better than the other players at the table.
At the end of the day, roulette is a real money gambling game that comes with a negative expectation in favor of the casino.
It's a service that exists should you want it.