Contact Roulette Star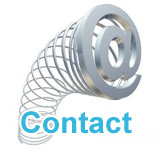 If you want to contact me for any reason, I am all ears. I appreciate all complaints, questions, comments and suggestions, and I make an effort to respond to them as quickly as possible.
As you can guess from the email address, my name is Greg. As a tip, it's a good idea to make the title of your email look really interesting, as it helps to distinguish you from any spam emails I get.


greg [at] roulettestar [dot] com


Make sure that you replace the [at] and [dot] parts with the appropriate symbols. I would have put them in normally, but if I do that I tend to get copious amounts of spam, making the time I spend reading emails a lot less fun.
I would put a contact form here, but they also tend to get spammed quite a bit. So it looks like I'm sticking with the old fashioned, half-disguised email address for the time being.
Looking forward to your emails!