3 Wheel Roulette
Online roulette variant with three wheels
This is an old page and this game is no longer online. I've left this page here anyway for nostalgia. Check out roulette games for a current list of active roulette game variants.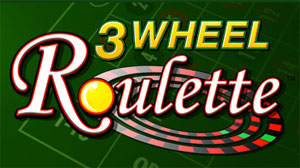 What is 3 wheel roulette and where can you play it?
Here's my quick guide to how this version of roulette works, along with a list of online casinos that offer it.
Online casinos with 3 wheel roulette.
Rank
Casino
Rating
Payment Methods
Payout Time
Links
No casinos available :(
What is 3 wheel roulette?
3 wheel roulette is almost the same as normal European roulette, except that there are three "rings" of numbers on the roulette wheel instead of one.
Bet you didn't see that one coming.
There is still only one ring of slots in the centre of the roulette wheel that the ball can fall in to though. All of the outer rings line up perfectly when the wheel comes to a stop. Therefore, on every spin of the wheel there are 3 individual results that can pay out.
So in any one spin, instead of the result simply being a single number like:
32
In 3 wheel roulette it would be more like:
7

15

24
Furthermore, there's no reason why the same result won't show up on more than one ring, so the result could also look something like this:
0

27

27
If any of these results line up with where you placed your bet on the standard roulette betting area, you win money. The more of these results that hit your bets, the more you will win.
How does it work?
Every bet you make when playing 3 wheel roulette online is tripled.
So for example, let's say you place a £5 chip on "red". This bet will automatically be tripled to £15, making your total wager for that bet £15 instead of £5.
A £5 bet on "red" is for the first wheel.
A £5 bet on "red" is for the second wheel.
A £5 bet on "red" is for the third wheel.
Now if the results of one spin were:
You would win £20 back. This is because:
Red = win. £5 x 2 = £10
Black = lose. £5 x 0 = £0
Red = win. £5 x 2 = £10
Basically, it's just like making the exact same bet 3 times in a row and then totting up the results.
Note: It's not possible to bet on a single "ring" of the 3 wheel roulette wheel. Every bet you place on the table is multiplied by 3 no matter what, with each of those units being used for each ring on the wheel.
Note: It's not possible to bet more on one ring than another in one bet. An equal betting unit amount is placed on each of the rings when you place your bet.
Bets, odds, payouts and house edge.
For each individual bet, the odds and payouts are exactly the same as they are in European roulette.
Just remember that your total bet on each number is split up in to three for each individual ring of numbers.
Interestingly, the probability and house edge of three wheel roulette is the same as European roulette too. As mentioned earlier, in 3-wheel roulette it's just like placing the same bet on 3 individual spins in normal roulette, except they all happen in one go.
Therefore the house edge for each of the standard roulette bets does not change – it stays at 2.70%. This is a good thing, as many of the exotic online roulette variants give worse odds than the classic versions of casino roulette.
Special bets.
It wouldn't be a fun variation on standard roulette without a new bet thrown in to the mix.
Along with all the standard straight, red/black, column bets and all that, there is a colour up bonus bet on offer. Within this bet exists a handful of payouts based on how the results of each of the 3 roulette wheels line up.
| Bonus Bets | Explanation | Payout |
| --- | --- | --- |
| Colour Up | All 3 results are the same colour. | Push |
| Pair | 2 of the same result (e.g. 27, 27, 4) | 5:1 |
| Straight | 3 numbers in a row (e.g. 9, 10, 11) | 25:1 |
| Pair Zeros | 2 zero results. | 50:1 |
| Triplet | 3 of the same result (e.g. 12, 12, 12) | 100:1 |
| Triplet Zeros | All 3 results are zero. | 1,000:1 |
Note: You can't bet on each of these possible outcomes individually. Instead you just bet on the "colour up bonus" which covers all of the above outcomes.
Does 3 wheel roulette exist offline?
I'm afraid not. As cool and as enjoyable as it is, there are two main problems:
I doubt that it would be popular enough compared to classic roulette.
It would be an incredibly difficult game to construct and run.
Casino gamblers love their blackjack, craps and standard roulette. Although these fancy new games are cool, they rarely get the attention you'd think they deserve.
Secondly, actually constructing a fair 3-wheel roulette table would take some feat of engineering. On top of that, it would be far too confusing for the croupiers to run the game efficiently.
Nonetheless, I'm happy enough playing 3 wheel roulette on the Internet. The in-game graphics are impressive, so I have no complaints in the realism and entertainment department.
Overall it's a fun variant of roulette, regardless of whether it's played online or offline.