Roulette Facts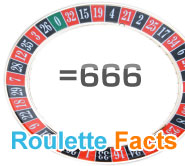 Here are a few quick facts about the game of roulette that you may not have known before.
There's nothing too groundbreaking here, but I guess it could work well as some interesting pub trivia. Impress your friends...
Roulette table facts.
Roulette is the third most popular game found in the casino. Slots and craps are the only two games that are more popular amongst players.
All of the numbers on a roulette wheel add up to 666. Hence why roulette is referred to as "the devils game".
The game of roulette gets its name from the French word for 'small wheel'.
Other roulette facts.
Roulette stories.
A man from England named Ashley Revell sold everything he owned and went to Vegas to gamble it all on one spin of the roulette wheel. He won with a bet on red, and won $135,300.